Disclosure: This "66 Fun Feminist Toys & Feminism Gifts for Girls" blog post contains affiliate links; as an affiliate and Amazon Associate, I earn from qualifying purchases at no additional cost to you. Please read my full disclosure policy for more information.
---
I know I'm not the only mom who is seriously over stereotypical boys' and girls' toys and clothing.
Sure, there's been some push in recent years for stores to shift from traditionally gendered "girl toys" and "boy toys" to more gender-neutral toy displays. But I'm still seeing aisles of pink princess toys next to aisles of cars and trucks, aren't you?
Trying to find unique girl gifts amidst the sea of glitter, bows, and bubblegum pink can be so frustrating. But our girls are way more unique than that girly girl stereotype.
Sure, our girls play with Barbies — but they also race Matchbox cars.
Yes, our girls host pretend tea parties — but they just might do it in superhero capes.
And sure, our girls bake pretend treats in play kitchens — but they make messy mud pies outside, too.
So, I've curated this gift guide jam-packed full of feminist toys, children's books, clothes, and other feminism gifts that empower girls, not put them in that same old pink box! From girl power t-shirts to feminism gifts for tweens. Fun science kits to feminist toys for toddlers. You'll find the perfect present for any girl, from toddler through tween!
66 Super Cool Feminist Toys & Feminism Gifts for Girls
Feminist Toys for Toddlers
Gender stereotypes start before birth but really set in at an early age, especially throughout infancy and the toddler years. Let's make sure even our youngest girls have fun girl toys that go beyond traditional pink princesses.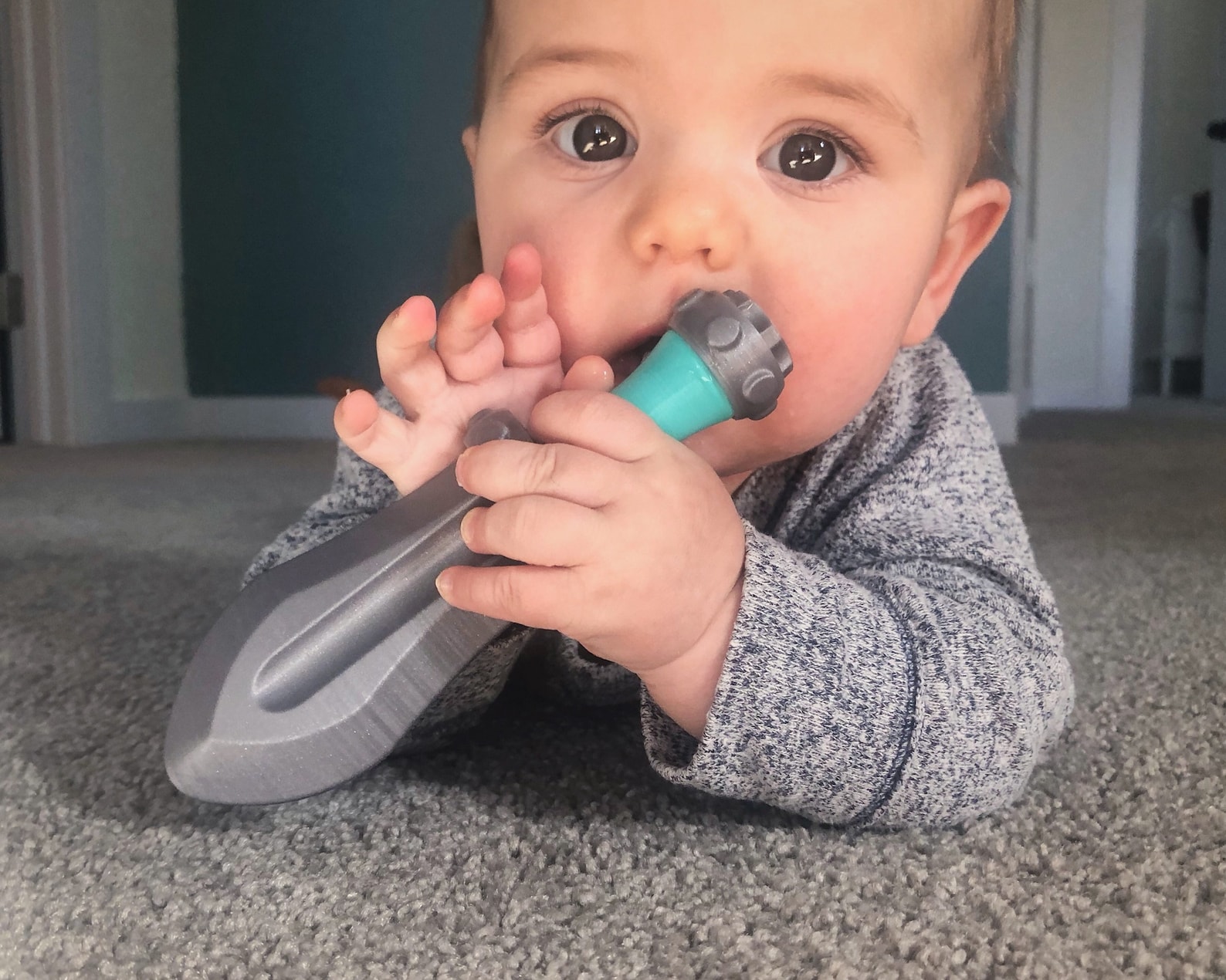 Baby's First Sword Rattle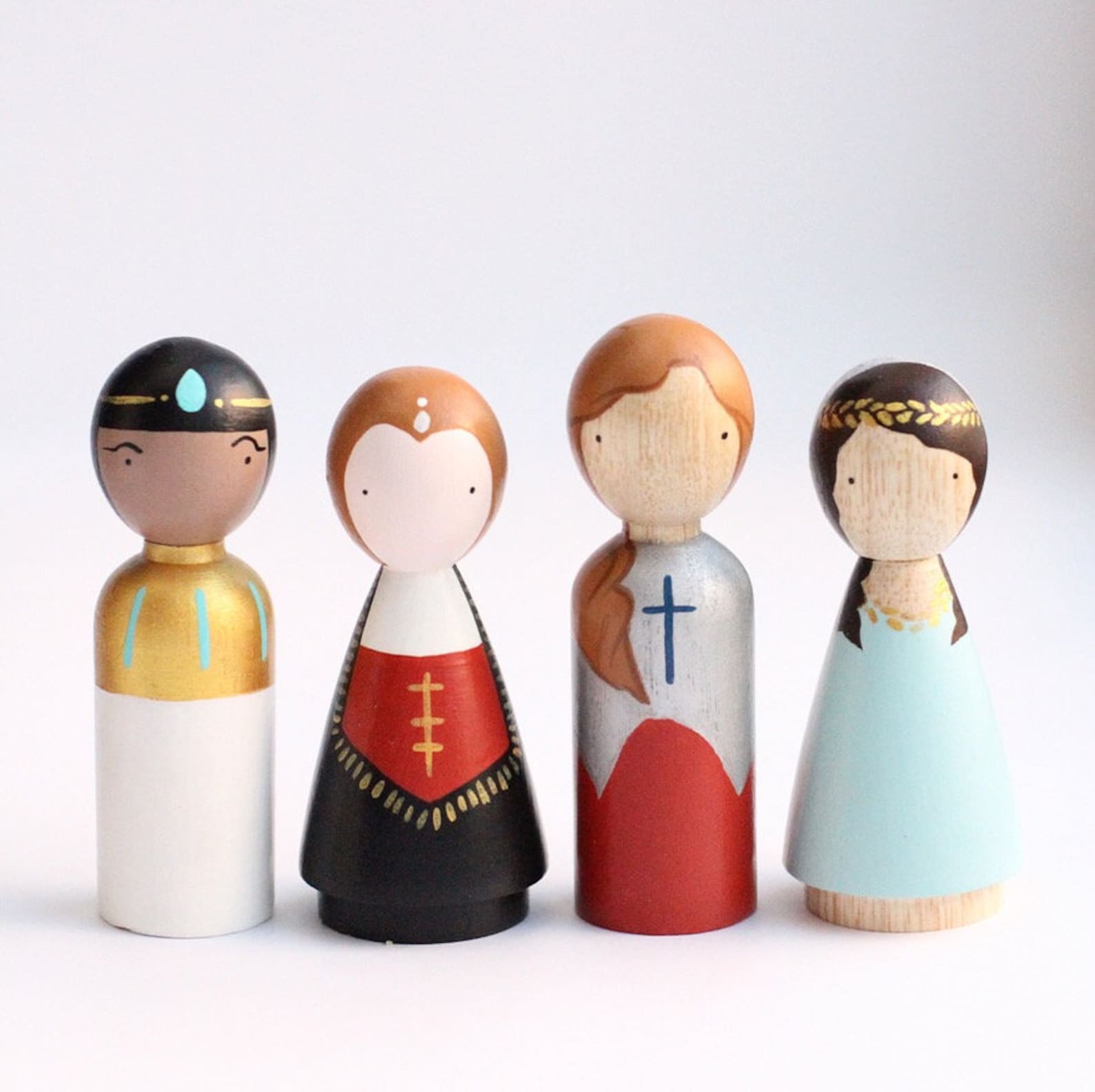 Women in Power Peg Doll Set
Hugg-A-Planet Earth
Give your toddler girl their first sword, a baby and toddler-safe sword-shaped rattle — to slay the patriarchy, of course!
Have a little girl who's not interested in baby dolls? How about a soft and squishy space shuttle and astronaut instead?
Trade your toddler girl's basic blocks for these feminist blocks featuring portraits, names, and facts about 32 women who made significant contributions to our culture and society.
This adorable hand-painted wooden peg doll set includes historic women of power: Cleopatra, Queen Elizabeth I, Joan of Arc, and Queen Esther.
Help your girl explore her place in her big world with this adorable plush planet Earth. Not only will this cuddly Earth introduce your little girl to geography, but it can be a ball for playing catch or a soft pillow for quiet time, too.
No, girls do not "belong" in the kitchen. But this kids learning tower can help them help in the kitchen — and can be used for more than just doing the dishes, too!
Too often, toddler girls get subtly (or not-so-subtly) pushed into less active play, when all they want to do is move! This Montessori-inspired wooden play gym is the perfect present for toddler girls learning to move and climb.
Encourage active play with this toddler girl gift, a kid-size sports activity center. It provides everything little girls need to play basketball, golf, and soccer.
---
Feminist Toys for Preschool Girls
Preschool girls need feminist toys, too! Check out these options get your favorite preschooler thinking beyond the gender stereotype.
Girl Power! Magnetic Dress-Up Figures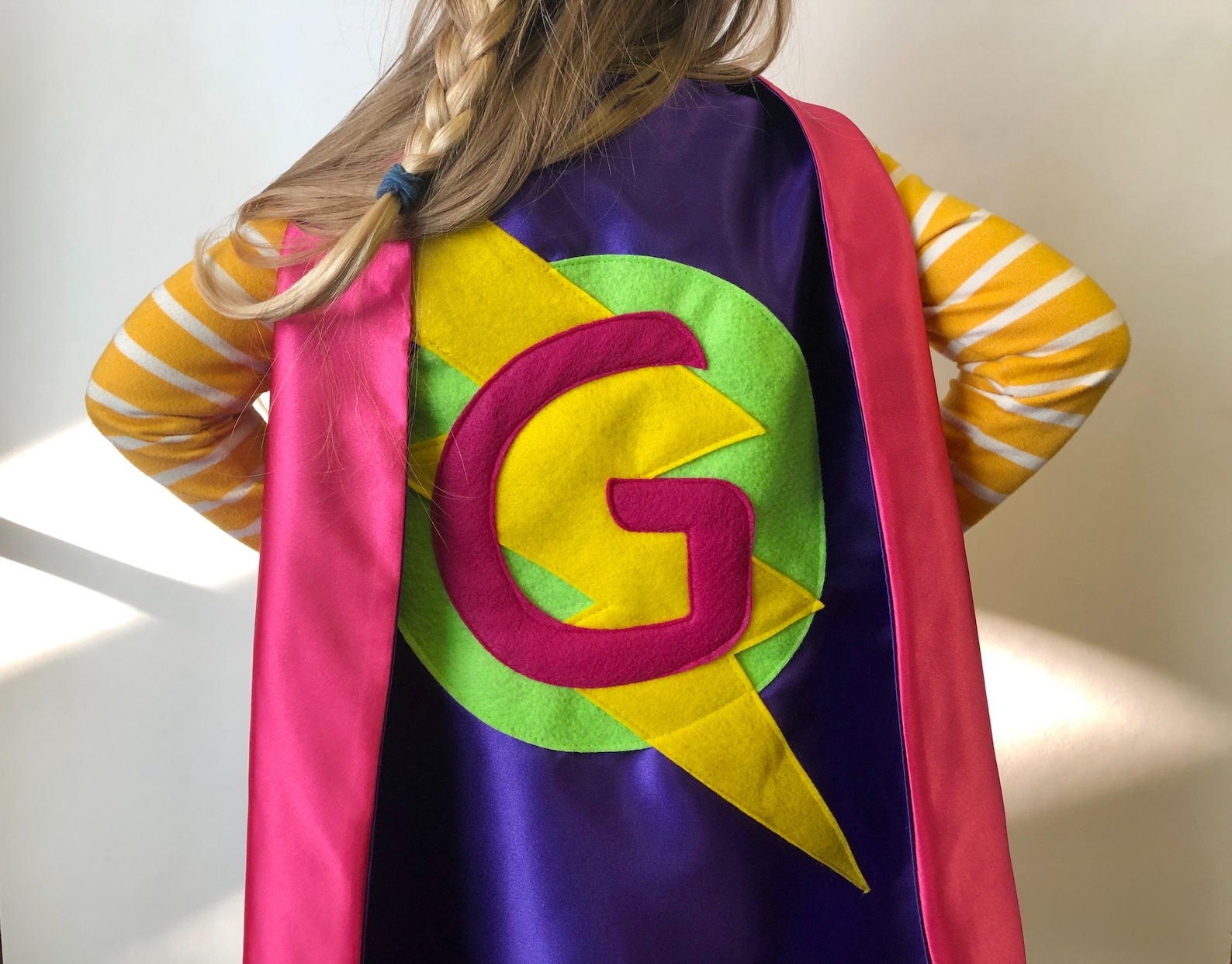 Personalized Superhero Cape
Wooden Tool Bench Toy
These could be the coolest Little People I've ever seen… This special edition Little People set features four iconic American women: Dr. Maya Angelou, Amelia Earhart, Rosa Parks, and Sally Ride.
Or, give your daughter this adorable stuffed animal and inspiring board book set that celebrates the "oddball" in us all!
This Girl Power! themed dress up toy — featuring historical trailblazers like Frida Kahlo and Cleopatra — is perfect for some empowering superhero play on-the-go.
Inspire some progressive play with a cute plush finger puppet of former First Lady Michelle Obama. She even comes with a tag with essential dates, facts, and a quote. Other iconic women finger puppets include Representative Alexandria Ocasio-Cortez, Sojourner Truth, and Harriet Tubman.
Or, inspire your daughter to explore her own superpowers with her very own handmade personalized superhero cape!
Who says girls can't play with cars? This colorful Ramp Racer introduces girls to numbers, counting, and cause and effect, too.
Make sure your daughter knows that girls can be builders, too, with her very own set of tools! This cute wooden tool bench comes with kid-safe tools and loose parts to inspire lots of building fun and fine motor practice.
Sick of the "woman's place is in the kitchen" stereotype? Empower your girl to get outside for some creative and messy fun with this wooden toy "Mud Kitchen" instead. Make sure to give her this Mud Pie Making Kit along with her kitchen, too.
---
Feminist Toys for Big Girls
Big girls need our support and encouragement, too! Check out these feminist toys that buck gender stereotypes and empower girls to think beyond society's standards for them.
Lottie Kid Activist Doll
Slackers NinjaLine
Alltruists Socially-Conscious Kids Activity Kits
Inspired by real-life girl activist Mari Copeny (and based on the proportions of a child rather than an adult woman), Lottie Dolls "celebrate childhood and promote the empowerment of children."
Empower your girl to be the creator of her own superhero story with a kit that provides everything to turn her original drawings into a bound comic book.
LEGO bricks cross gender barriers like no other toy. Grab the Super Mario Peach's Castle LEGO set for your girl to build and admire.
The ultimate outdoor girl power gift, a 32-foot NinjaLine is sure to help any girl discover and grow her girl power!
Help your child discover her "girl power" to make a difference in the world with an ALLtruist activity kit subscription. Each monthly activity kits includes kid-friendly volunteer projects centered around a unique cause, like showing shelter pet love, helping to build a well, and supporting an unhoused family.
Give your daughter an action figure she can really aspire to — the first female, first Black person, and first person of Asian descent to become Vice President of the United States of America, Kamala Harris.
---
Feminism Gifts for Tweens
Stuck between little girlhood and teenager, tween girls can be especially hard to gift shop for. So, let's explore some fun and unique gifts for girls age 10 to 12…
Loog Pro VI Electric Guitar
Menstruation Crustacean Warming Pillow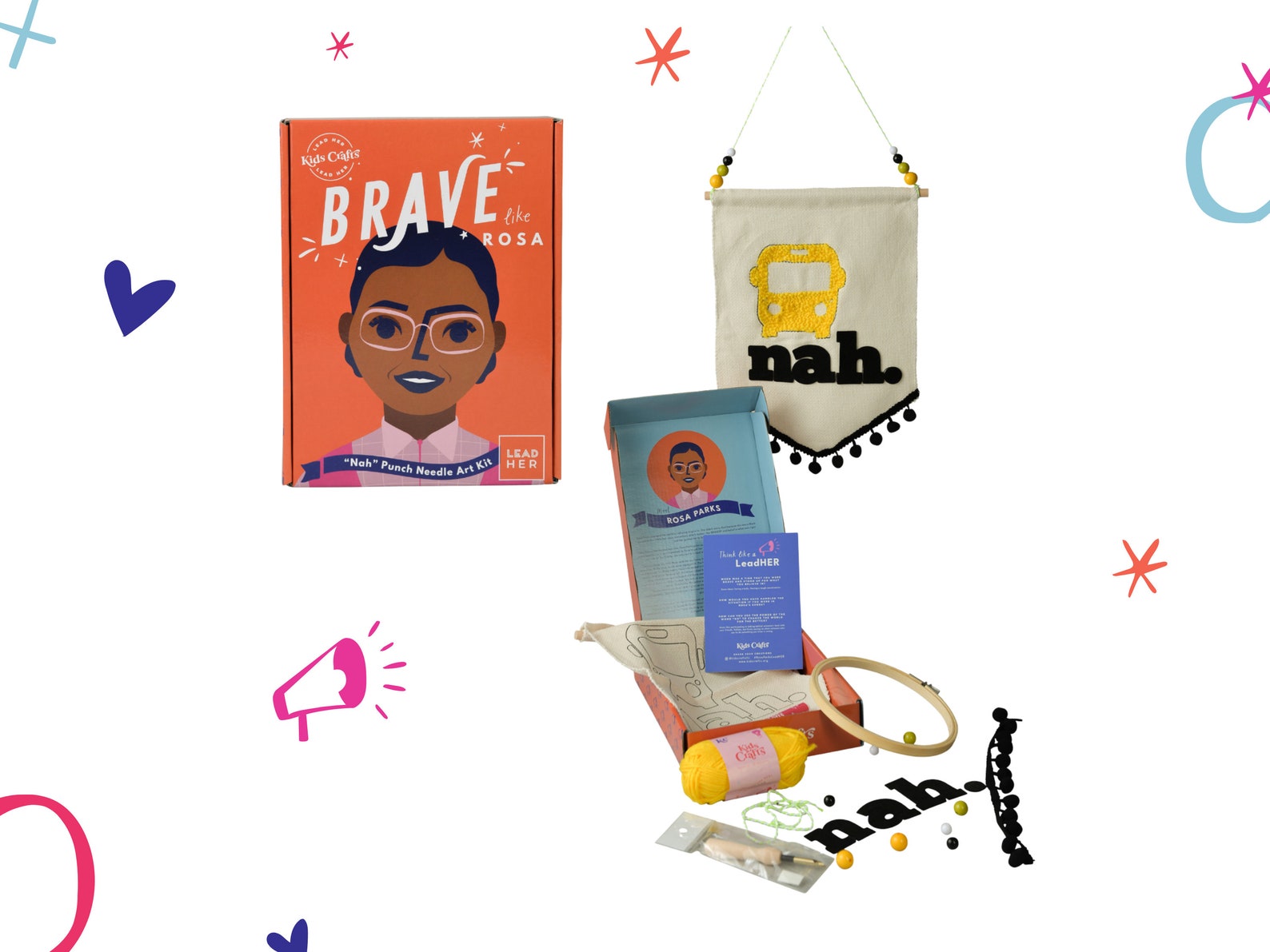 Rosa Parks Punch Needle Craft Kit
With increasing independence, tween girls often begin carrying a purse (for money, sanitary supplies, cell phone, etc.). But not all tween girls want a feminine purse. Consider this cool astronaut cat shoulder bag instead!
What better way to inspire self-confidence and girls' empowerment than through music? Your tween girl will be rocking out in no time with this Loog Pro VI Electric Guitar, designed for kids and beginners to learn on.
A great gift subscription option for tween girls age 7 to 12, STRONG Self(ie) delivers fun girl power gifts, like a unique art card to add to her "INSPO Wall."
It's time to break the stigma around periods. Celebrate menstruation instead with this clever (and useful) teen girl gift: a cramp-relieving "Menstruation Crustacean" she can snuggle up with during her period.
Give your girl the ultimate empowering tween gift—the ability to print her own photos! HP's Sprocket Photo Printer prints cute 2×3″ photos right from your tween's smartphone.
With rapidly changing hormones and emotions, your tween girl will get a kick out of these soft plush emotional support fries!
Gift your favorite tween girl a craft kit inspired by trailblazer Rosa Parks! The kit tells Rosa's inspiring story and provides everything she needs to make a statement too with a punch needle craft kit. Consider craft kits inspired by other women who made historical impact, too, like Maria Montessori, Maya Angelou, and Greta Thunberg.
---
STEM Toys & Gifts for Girls
With STEM in the spotlight of our rapidly evolving world, we can't let our girls miss out on the "Science, Technology, Engineering, and Math" fun. So, let's check out come cool STEM gifts for girls of all ages…
Moon Phase Blocks
Light-Up Terrarium Kit
Kids Scientist Lab Coat with Goggles, ID Card, & Experiment Set
Foster your little girls appreciation of her special connection to the moon with these beautiful Moon Phase Blocks. Plus, they are handcrafted in the USA with Michigan basswood and non-toxic ink.
Get that girl moving with the classic favorite, Stomp Rockets! Watch her run, jump, and STOMP to launch foam rockets up to 400 feet in the air.
Get your favorite girl in the garden with HearthSong's Grow With Me Telescoping Garden Tools. They are high-quality like grown up tools but perfectly sized for growing kids.
Help your girl appreciate the beauty of nature with her very own terrarium; she can watch as grows by day and glows at night under the LED light.
Make sure your little scientist has the right gear with this STEM gift: an adorable kids' lab coat, goggles, and ID card set!
Give your budding astronomer an impressive telescope STEM gift. Don't forget the reminder that she's "out of this world!"
---
Empowering Personalized Gifts for Girls
What better way to empower your girl than with a personalized book or toy? Check out these sweet personalized gifts especially for girls that will have your child celebrating herself!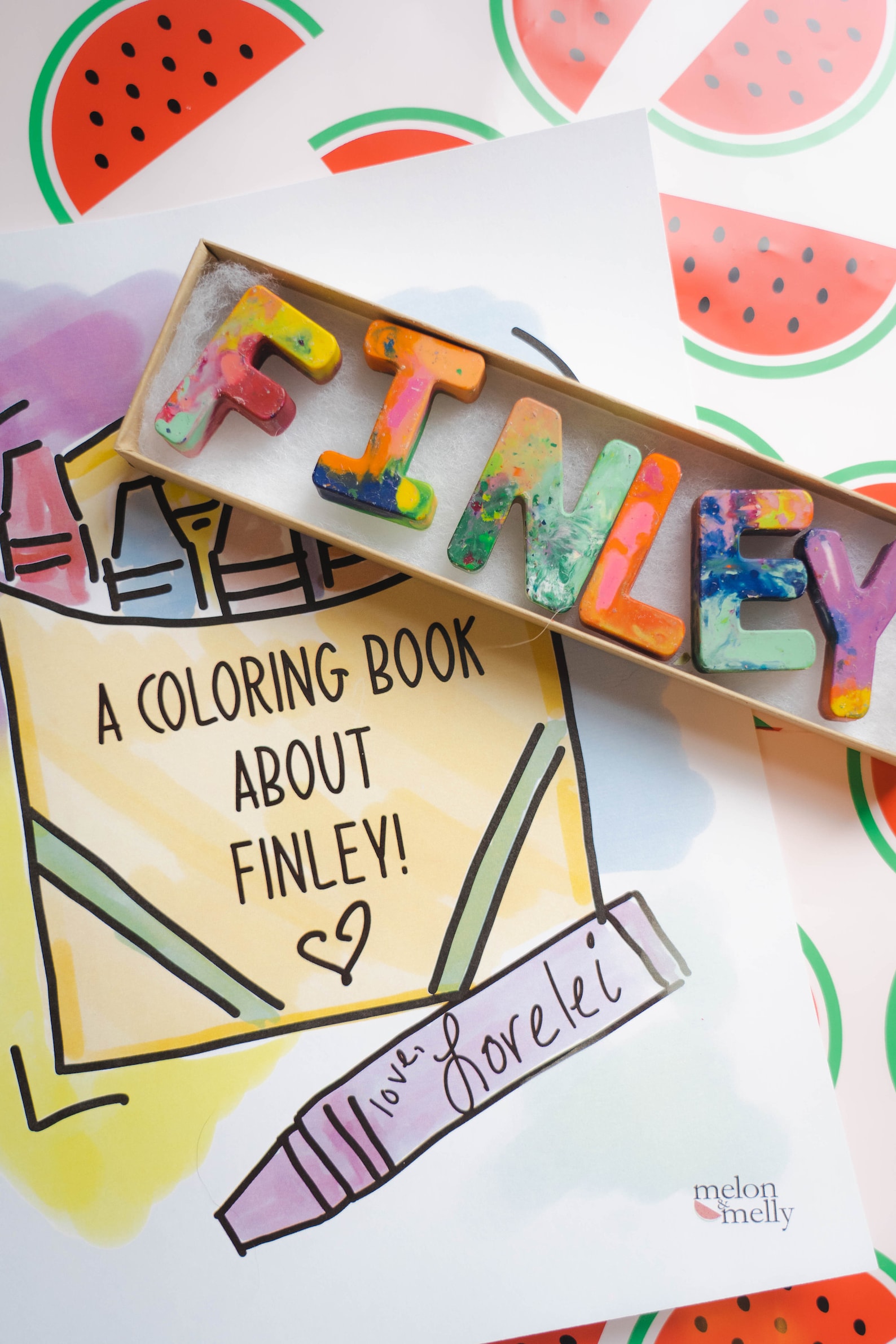 Personalized Coloring Book and Name Crayons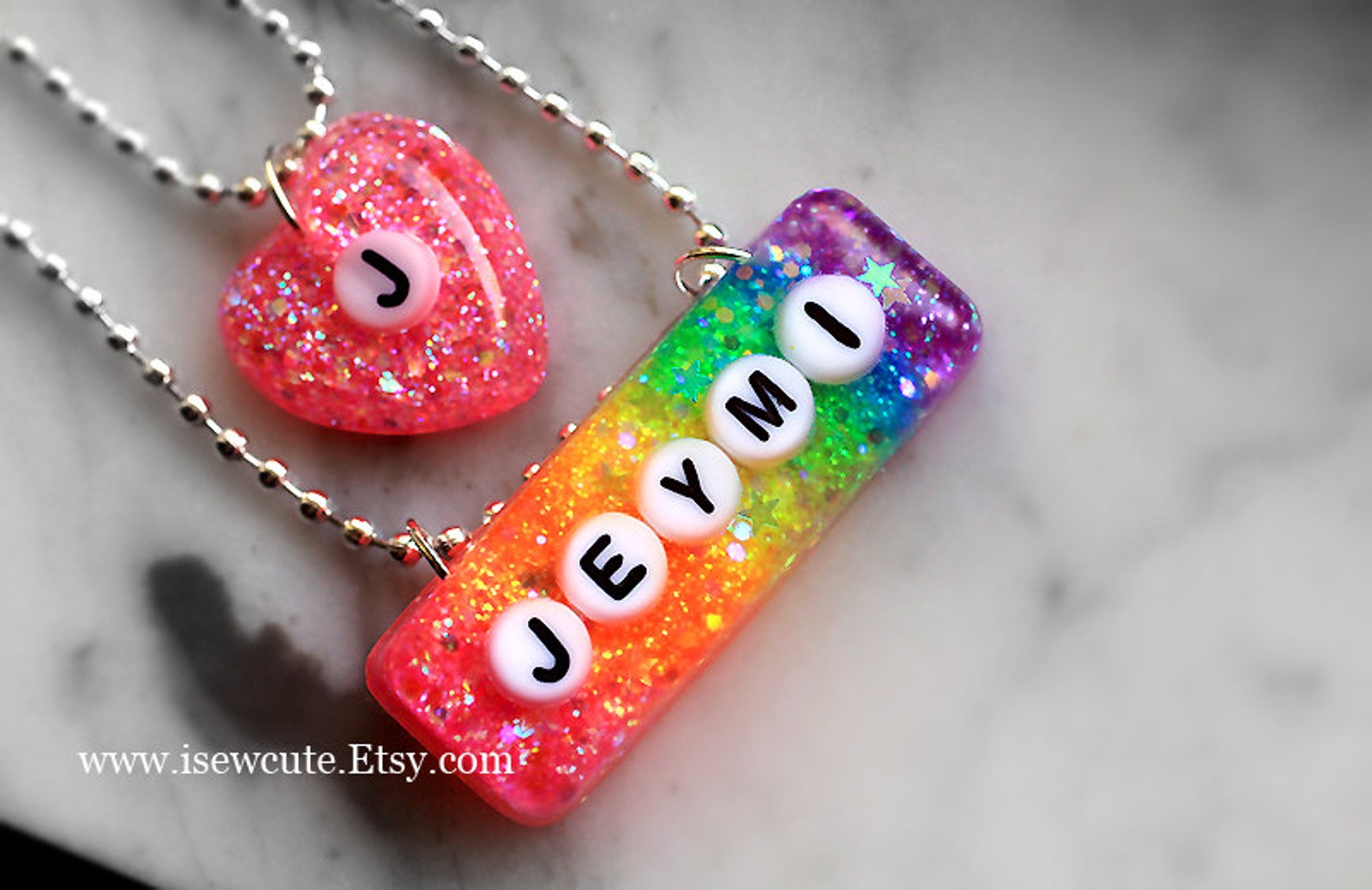 Rainbow Name Necklace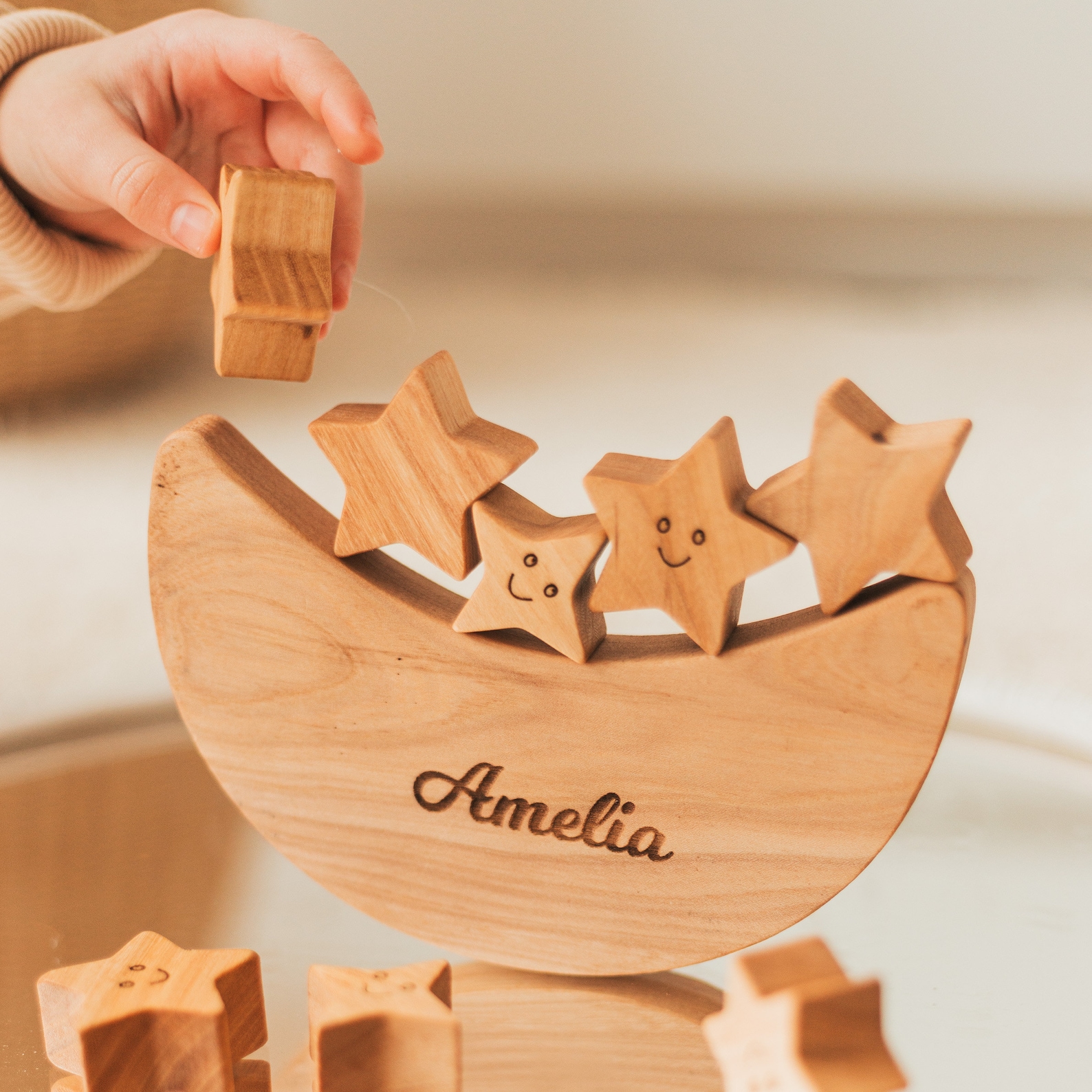 Personalized Balancing Moon & Stars Toy
Give your favorite girl their very own coloring book personalized with their name and positive messages. Plus, the set comes with letter-shaped crayons that spell her name!
A wooden name puzzle is the perfect personalized toddler girl gift. And, BusyPuzzle offers name puzzles in other themes, too, including trains, big rig trucks, and dinosaurs.
Gift your daughter or granddaughter their very own custom rag doll with the hairstyle, skin tone, and clothes of their choice!
Encourage your favorite girl to embrace and celebrate their own name with a colorful name necklace by isewcute on Etsy.
With your child's name, hair color, skin tone, and even a special photo, this personalized book teaches girls that they can change the world with simple acts of kindness. Other great book titles include Reasons Why I Love You and The Magic in Me.
Have your daughter's name engraved on this adorable wooden moon and stars balancing toy — the perfect present to remind her to "reach for the stars!"
---
Girl Power Shirts & Feminist Fashion
Help your favorite young feminist celebrate her confidence with a gift of girl power t-shirts and clothing. Check out these cool feminist fashion gifts for girls…
Ruth Bader Ginsburg Kid's Trailblazer T-Shirt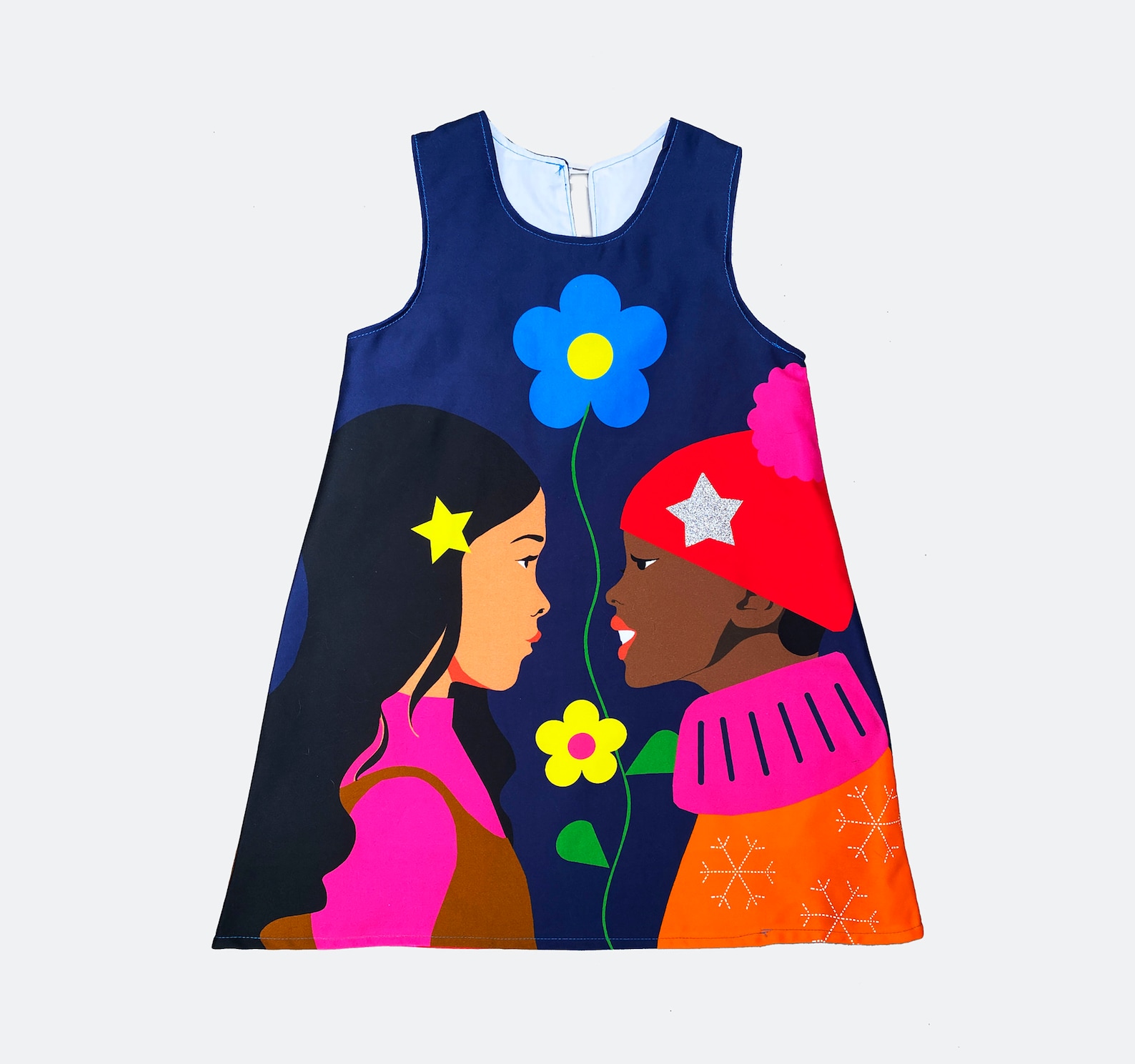 Toddler Friendship Dress
Converse Unisex Chuck Taylor All Star Sneakers
The illustration on this cute feminist tshirt pairs an empowering message, "Strong like a girl!" with a rockstar hand gesture.
Your favorite girl will love wearing this shirt featuring a colorfully-illustrated portrait of her favorite feminist icon, Supreme Court Judge Ruth Bader Ginsburg. Or, choose from other pioneering women like NASA mathematician Katherine Johnson, pilot Amelia Earhart, and human rights activist Malala Yousafzai.
The vibrant print on this adorable party dress, featuring two friends in profile sharing a flower, promotes friendship and togetherness.
The colorful print on this comfy cotton shirt and shorts set is sure to inspire some conversation about activism. Plus, the cotton set is comfy enough to take action, too!
The colorful dinosaur print of this sweet cotton dress makes this the perfect gift for a little girl who likes wearing dresses but not pink frilly ones.
Every girl needs a good set of rain boots! How about these fun rainbow rain boots from Lone Cone, designed by artists inspired by the joys of childhood.
Give your daughter the comfiest girl power gift of all: pajamas that celebrate a feminist icons like Rosa Parks, Frida Kahlo, and Ruth Bader Ginsburg.
Inspired by Jane Austen's Pride & Prejudice, this feminist tee reminds young girls to stand strong in who they are. Pair it with kid-friendly illustrated and retold Jane Austen's Pride and Prejudice or Pride & Prejudice: A BabyLit Counting Primer for the perfect literature-themed feminism gift!
Whether classic black or a fun bright red, every girl needs a pair of Chuck Taylors — just as Vice President Kamala Harris!
---
Cards & Board Game Gifts for Girls
Card games and board games offer endless opportunities for social interaction and learning, making them great girl power gifts. So, let's check out the best game gifts for girls…
Girl-Power: The Card Game
Election Night! Board Game
In Their Footsteps Puzzle
This fun and educational feminist game teaches players with real women who made contributions in the fields of culture, politics, science, feminism, human rights and art.
Even toddler and preschool girls can have their own girl power game: Little Feminist Memory Match with colorfully-illustrated cards featuring women who have changed the world.
This 500-piece round puzzle boasts colorful art that "captures the essence of women who have courage and determination to continue to make social, economic, cultural, and political changes for the future."
This inspiring Girl-Power Card Game, gives classic fast-paced game of Spoons a feminist twist. Instead of typical playing cards, you collect influential female icons, like Michelle Obama, Greta Thunberg, and Rosa Parks.
Make sure your girl knows she can be anything she wants when she grows up, including the President of the United States, with Election Night, a 2019 Parent Choice Award winner.
With this clever board game, girls as young as 7 years old learn how to build a business empire "one scoop at a time!"
Created by a 9 year old, Bold Made transforms classic Old Maid into a celebration of real women who've made an impact on history, including Malala Yousafzai, Temple Grandin, and Harriet Tubman.
This 1000 piece puzzle features amazing women in American history, including our first female Vice President, Kamala Harris!
---
Awesomely Empowering Feminist Books for Girls:
Finally, every girl deserves lead characters and positive role models that she can relate to. Check out these children's books that celebrate girlhood, feminism and activist, and influential historical women, too.
Goodnight Stories for Rebel Girls 3-Book Set
F is for Feminism: An Alphabet Book of Empowerment
Baby Feminists
This 3-book gift set of the first three volumes of the Good Night Stories for Rebel Girls series tells 300+ tales of extraordinary real-life women — in fairy tale form.
Awesome girl power books for toddlers and preschoolers, We Are Little Feminists board books features real photos of real kids and families — including representation of LGBTQ families, kids with disabilities, and many cultures and races.
Power to the Princess puts a feminist spin on 15 classic fairytales, positioning the princess as her own heroine.
Give your girl the awesome gift of empowering words with F is for Feminism, a bold and bright dictionary of 26 thought-provoking feminist words she will use for a lifetime!
Help your girl get to know herself and build self-esteem with Empowered Words, a fun fill-in activity book and journal full of motivational activities, coloring pages, and journal prompts.
I Will Be Fierce is a powerful picture book that teaches girls to be courageous, confident, and kind—and to find the extraordinary in everyday moments.
Teach your daughter about the powerful women who can before her with the colorfully illustrated feminist children's book, A is for Awesome.
This clever feminist board book introduces toddler girls to the concept of feminism while also giving them a peek at iconic feminists as they may have looked as babies! Women inside the book include Gloria Steinem, Dorothy Pitman Hughes, Billie Jean King, and more.
---
Like These Feminist Toys & Feminism Gifts? Save 'Em & Share 'Em!
Don't forget to save these feminist toys and feminism gifts ideas to come back to for your Birthday and Christmas shopping. And share with friends! Simply click on the buttons at the top or bottom of this post, or click here: Share on Facebook | Tweet It | Pin It | Email to a Friend
---
Some More Fun Gifts for Girls:
---
Disclosure: This "66 Fun Feminist Toys & Feminism Gifts for Girls" blog post contains affiliate links; as an affiliate and Amazon Associate, I earn from qualifying purchases at no additional cost to you. Please read my full disclosure policy for more information.