This post brought to you by Walmart. All opinions are 100% mine.
Moms of NICU Babies Need Special Support
I haven't told my three birth stories here (yet), but let's just say that I did NOT have easy pregnancies and births. (Are any of them easy, though?!) In fact, two of my three babies were "NICU Babies." Meaning, two of my three babies had medical emergencies upon birth that required time in the neonatal intensive care unit. And while every minute that your newborn is in the NICU feels excruciating, I was fortunate that Sawyer and J.C.'s NICU stays were relatively short; only 10 days and 21 days respectively. My heart ached to see the other moms of other NICU babies who were there for months and months. From my own experience and from observing theirs, I've come up with some ways that you can help and support those brave mamas…
Ways to Support Moms of NICU Babies
Don't Expect to Visit – NICUs have very strict visitation policies. In my experience, we could only have two people at a time, one being the parent. So grandparents took top priority and all other visitors were limited.
Offer Childcare – I wanted to spend every moment possible with my NICU Babies. Since Sawyer was my first, I was able to stay with him round-the-clock. But when J.C. was born, I still had to care for Sawyer and Priscilla. Thankfully, I had help from their dad and my family, so I didn't have to worry about them and could focus on my sick newborn. If you know a mama with a NICU baby and older kids, too, offer to care for her older kids so she can be at the NICU as much as possible.
Wait on the Baby Gifts – Most hospitals have policies that limit what items (blankets, clothing, etc.) can be brought into the NICU and be in contact with the babies. It's best to wait on the cutesy baby gifts until baby comes home.
Give a Gas Card or Cash Instead – We were fortunate to live pretty close to our NICU hospital, but many families have to travel quite a distance to visit their NICU babies. And sometimes have to stay in hotels, too. Gift cards for gas or cash for their hotel stay would be more helpful than baby gifts.
Just Listen; Don't Pry – Offer a listening ear if a NICU mama needs to talk, but don't pry about all of the medical details. Often those details are complicated, overwhelming and sometimes uncertain. Your mom friend will share what she feels comfortable sharing when the time feels right for her.
Stay FAR AWAY if You're Sick – It's a no-brainer that NICU babies need to be protected from germs and illnesses; but SO DO THEIR MOMS! If mom is sick – even with a common cold – she might not be able to visit her own baby. So if you're sick at all, stay clear of mama, too.
Limit Advice – NICU babies often have special needs – even after their homecoming – that are unique. If you don't have experience with that particular situation, try to be sensitive to her situation and limit baby advice. It might just frustrate your mom friend more.
Support the Children's Miracle Network! – Many NICU hospitals get funding from the Children's Miracle Network for research, special training, and expensive medical equipment. Why not make a donation in honor of your friends little one?
Supporting the Children's Miracle Network & It's Partners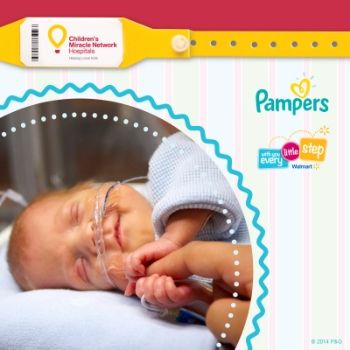 Another way to support the Children's Miracle Network is through the companies that partner with them. For the month of June, Pampers® has partnered with Walmart to make a donation for $200,000 to the Children's Miracle Network Hospitals. Coinciding with their charitable contribution, Pampers® is offering the Pampers® Huge Box available online at Walmart. The Huge Box includes more than 100 diapers! So when you purchase a Pampers® Huge Box, you'll be saving money and supporting the Children's Miracle Network Hospitals, too! "A heartbeat this small needs a Huge Box that makes a difference."
Were you a mom of a NICU baby? What would you add to the list of ways to support NICU moms? Share in the comments below!
Please see my disclosure policy.