This post brought to you by Blue Bunny Ice Cream. All opinions are 100% mine.
The Perfect Ice Cream Sundae for Summer!
What's the perfect sweet Summer treat? ICE CREAM of course! From my grandmother's homemade ice cream at family picnics to stops at our local favorite, "King Kone," ice cream is a staple in our sweet Summer moments. But it does prove to be a challenge – with the extra fat and sugar slowly expanding our waistlines by Summer's end. So when Blue Bunny® sent us some of their no sugar added Sweet Freedom ice cream and treats, I had no guilt about eating them serving 'em up with our Summer fun! Check out how we enjoyed our Sweet Freedom…
Sweet Freedom Ice Cream Sundae "Sand" Castle
We planned a last-minute picnic with Mi-Mi and Pop-Pop on Father's Day and needed a yummy dessert. And since the kids were running around, playing in the kiddie pool and sand box, I thought it'd be fun to use our Sweet Freedom Ice Cream to make a yummy "sand" castle.
Ingredients and Supplies:
your favorite flavor of Blue Bunny

®

Sweet Freedom Ice Cream
new, unused plastic sand castle molds (I got mine cheap from the local dollar store.)
plastic wrap
small spatula
tray/plate
graham crackers, crushed into crumbs
toothpick and washi tape "flags"
Steps:
1. Let ice cream soften for 10 minutes or so at room temperature.
2. Line castle molds with plastic wrap – leaving lots of overhand around edges.
3. Use spatula to scoop softened ice cream into lined molds – pressing it all the way into the mold crevices – until molds are full.
4. Fold extra plastic wrap over to cover ice cream in molds.
5. Place in freezer for an hour or more until frozen hard.
6. While ice cream freezes, use toothpicks and washi tape to make some cute little flags for the finished ice cream sundae castle.
7. Remove castle molds from freezer, unwrap plastic, and tip over onto a tray or plate. Pull off castle molds and plastic wrap from the "ice cream castle."
8. Give the kids a plastic storage bag full of graham crackers to crush into crumb "sand."
9. Have the kids sprinkle the graham cracker crumb "sand all over and around the ice cream castle.
10. Have the kids place the toothpick and washi tape flags onto their finished castle.
11. Grab some spoons and dig in to your GIANT Ice Cream Sundae Sand Castle!
The kids got such a kick out of sharing their GIANT ice cream sundae! And since the kids were taking care of the Ice Cream Castle on their own pretty well, we adults grabbed some of the Blue Bunny® No Sugar Added Sweet Freedom Treats.
Mom and I had the Ice Cream Lites while the guys enjoyed the Snack Size Cones – the perfect sizes for a no-guilt dessert after our filling picnic lunch.
Kind of funny though, how the kids gobbled down their HUGE ice cream sundae while we had cute little snack sized treats!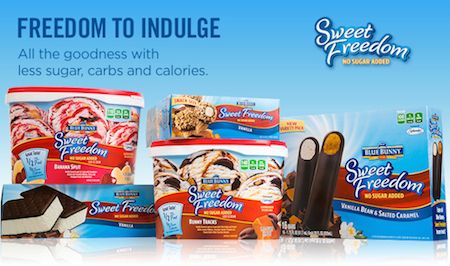 "This summer Blue Bunny® wants you to 'Make Every Moment Count'" just as the no sugar added in Sweet Freedom allows you to make every bite count." Our Blue Bunny® treats surely make for a sweet moment that I hope the kids will remember and cherish. How do you plan to make every moment count this Summer? Is ice cream ever involved in your sweet Summer moments?!
For more #My Sweet Freedom inspiration from Blue Bunny®, make sure to follow them on Facebook and Pinterest. And keep an eye out for more Blue Bunny® fun right here at B-Inspired Mama during National Diabetes Month in November!
Please see my disclosure policy.