This is a Sponsored post written by me on behalf of Walmart. All opinions are 100% mine.
Ever Play That Purse Game?
You know the one – at every baby and bridal shower. The host asks for a silly item and the first person to produce it from their purse wins a prize. I know it's corny, but I always get a kick out of that game. And even more so now that I'm a mom. And my purse is a catch-all! So I thought it'd be fun to let you in on what's in my purse – right now. And see what all of those goodies say about me and my life right now, too. Let's dig in…
What's In My Purse:
My Funny Wallet – Cliff got this wallet for me as a gift. It's one of my favorite things that I get lots of giggles from when I pull it out. It has two vintage housewives walking down the street saying "Who faster! The children are catching up!"
A Diaper & Wipes – They're just about out of the photo, but trust me – they're definitely there. With my youngest still in diapers, I always have a spare in my purse for emergencies!
A Toy Phone – To keep in constant contact with my toddler. *wink*
My Business Cards – You never know when you'll meet a new mama to connect with!
A Book – JUST IN CASE the kids are playing nicely at the park. My current book is "Kids in the Syndrome Mix."
A Toothbrush – From the kids' last dentist appointment – that never made it to the bathroom.
My Glucose Monitor – I struggle with hypoglycemia and need my testing kit on hand when my glucose levels feel off.
A Protein Bar – To bring my glucose up when it's feeling low. See above! Or to appease a hungry kid.
Silly Photo Booth Pictures with Priscilla – I have a hard time walking past a photo booth without stopping to take silly photos with my kids.
Movie & A Meal Gift Cards – A yet-to-be-used wedding present for a date night with my hubby!
An I Spy Game – Perfect for entertaining kids (and adults) during long restaurant waits.
Angel Soft® On-the-Go Tissues – A must-have for snotty kids, messy restaurant tables, and allergic mamas!
My Must-Have Angel Soft Tissues
I'm loving these Angel Soft On-the-Go tissue because they're easier to stash away than bulky tissue boxes but hold more than those tiny pocket tissues from other brands. Perfect for my purse, the diaper bag, the kids backpacks, and even the car glove box! I know I'll be ready for anything with these on hand!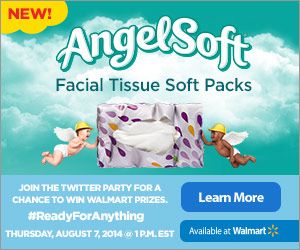 So tell me – what's in your purse? And what does it say about YOU!? Do share in the comments below!
This is a sponsored post written by me on behalf of Angel Soft. All opinions are authentic and my own. Please see my disclosure policy.