This is a sponsored post written by me on behalf of Blue Bunny Ice Cream. All opinions are 100% mine.
A Festive Ice Cream Float with LESS Sugar!
Did you know that November is National Diabetes Month? And today is World Diabetes Day? It's a more important day than you might realize. Nearly 30 million children and adults in the United States have diabetes, and I have walked in their shoes. I had insulin dependent gestational diabetes for two of my three pregnancies, which makes me empathize with those 30 million living with diabetes so much more! So when I was invited by Blue Bunny® to raise awareness for National Diabetes Month and make a sweet treat that is diabetic friendly, I was ALL IN! Here's the lower-sugar sweet treat we came up with that's perfect for this holiday season…
Low Sugar Peppermint Cherry Ice Cream Float
Ingredients:
Blue Bunny® Sweet Freedom (No Sugar Added) Vanilla Ice Cream
peppermint extract
cherry flavored diet soda
maraschino cherries
sugar free whipped cream
holiday sprinkles
Steps:
Put a scoop or two of Blue Bunny® Sweet Freedom Vanilla Ice Cream in a fun holiday mug. Add a drop or two of peppermint extract.
Pour some cherry flavored diet soda over top. Be careful, it'll bubble up. (The kids will love this!) Add some whipped cream, a cherry, and some sprinkles to the top. ENJOY your Peppermint Cherry Ice Cream Float!
More About Blue Bunny® Sweet Freedom
Blue Bunny® Sweet Freedom is a great choice for diabetics or anyone to have a sweet treat without all of the sugar this holiday season. Sweet Freedom ice cream and treats come in lots of flavors and varieties with LESS sugar and fat than typical ice cream treats. For more information on Blue Bunny® Sweet Freedom, follow #MySweetFreedom on Pinterest and Facebook.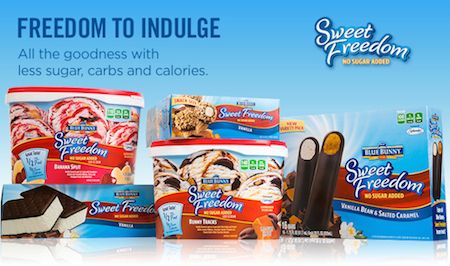 Do you or any of your loved ones live with diabetes? Is it difficult to find sweet treats throughout the holidays?